Profile
Dr. Konstantina Liwieratos is a German speaking licensed guide for Greece since 1992 and has been leading tours throughout Greece , the Western Balkans, Albania and the Eastern Mediterranean Sea.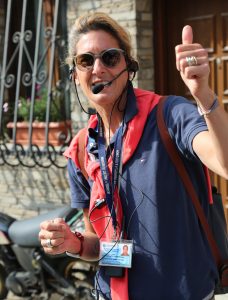 Konstantina continues guiding groups and individual guests with the same enthusiasm as ever. Her double provenance (German mother, Greek father) and her eloquent language ability allow her to link the two cultures for her guests best understanding. She succeeds to transform tours and visits into vivid experiences, as she does not only 'explain' history and archaeology, but actively involves her guests into everyday lifestyle, traditions, politics, economy, cuisine, music. By travelling or visiting with her, one dives into the city or country and feels what it means to be 'local'. Konstantina has a classical education and a long working experience, which allow her for a thorough and accurate scientific background. At the same time she creates the optimal encounter between the visiting place and her guests.
Dr. Konstantina Liwieratos was raised in Athens, Greece. Between 1989 and 1992 she studied at the national Guides College in Athens and after completing it she obtained her guiding national license. In addition to the cultural tours for groups and individuals, she is an expert in classical or specialised tours in Athens (see Tours).
Parallel to her work she obtained two Bachelors of Arts (BA) in Greek and German Philology (1989-1995) and in History, Archaeology and Art History (1995-1999) in Athens and Rome. Later she completed and published a MPhil and a PhD at University College London in the field of Heritage Management and tourism development. Her mother tongues are German and Greek, she speaks fluently English and Italian and good French and Spanish. Additionally, she has participated in Congresses, she has published in international journals and she has worked as an archaeologist and as a consultant in heritage management and development projects. Since 2008 she works as a consultant for the design of cultural tours in Greece and the Balkans. She travels extensively (in her free time and in small groups of friends) to different countries, which always inspires her for her own tours and provides her with a cosmopolitan perspective of the world.